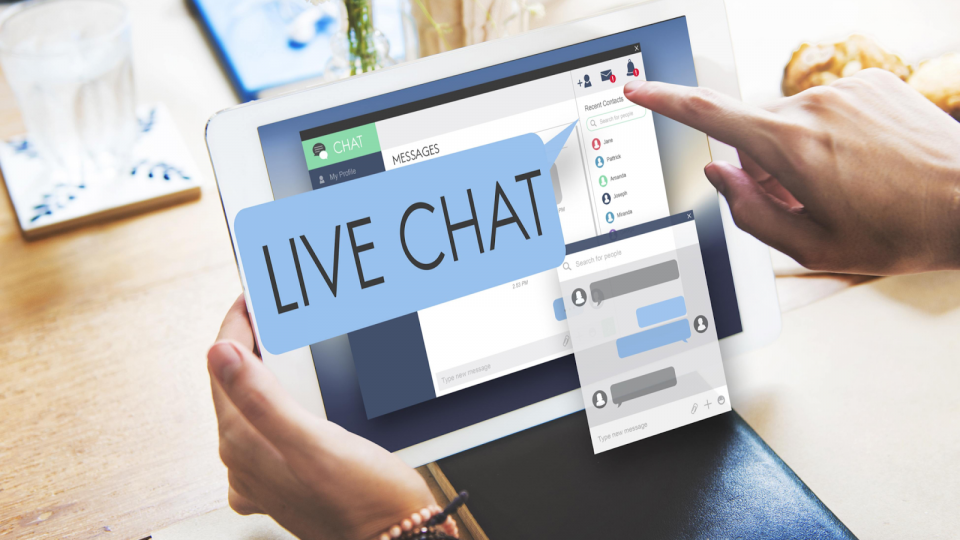 Whisbi vs LiveChat vs Webliveview: Best Live Chat App For Your Retail Business
When looking for a live chat video app, business owners often get confused by the number of options available on the market today. Which one to pick? Which one has the best price/feature ratio? Do I need to be tech-savvy to start using it? — these are only a few questions that naturally arise when considering chat software for business.
To help you make an informed decision and not waste your budget on functionality that you may not need, we've come up with this comparison blog for the three popular live chat solutions: Whisbi, LiveChat, and Webliveview. Here, we'll go over their main features, and try to outline the pros and cons of using each one of them for your retail business.
Keep reading on!
Whisbi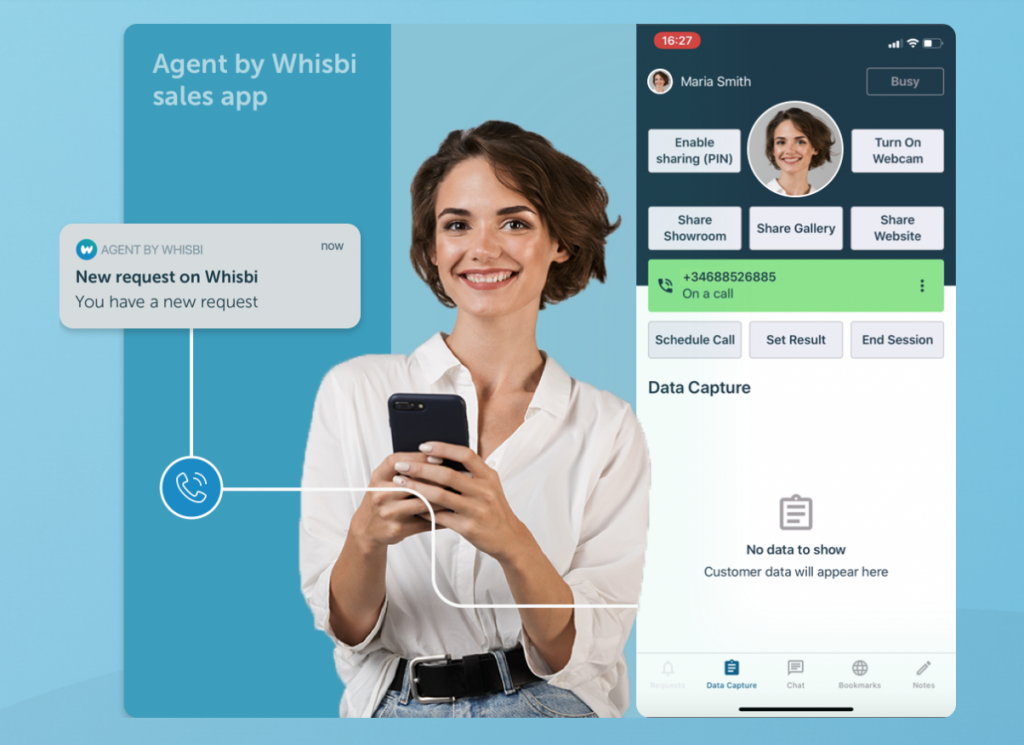 Whisbi is a platform that combines different types of functionalities for e-commerce sellers: chat, live video chat app, chatbots, and click-to-call feature. It can integrate with call centers, showrooms, and physical stores, providing sales teams with all the needed instruments to enhance customer engagement and increase conversion rates.
The software features a role-based model which allows business owners to create roles and assign them to particular team members. Managers can also customize built-in chatbots as per their needs or requirements.
Whisbi supports third-party integrations with such solutions as Salesforce, Adobe Marketing Cloud, Google Analytics, etc. The platform is also widely popular in such industries as automotive, insurance, banking, travel, etc., and is a choice of such giants as Toyota, Vodafone, Hyundai, and VW Group.
What about price options?
Whisbi does not offer a free trial; however, users can request a demo version of a product. When it comes to pricing, Whisbi provides its users with several options: Engage (starting at $899/month), Guide ($1799+/month), Sell ($2399+/month), and All-in-One Platform ($8000/month).
The platform's pricing policy is above the average though. This is due to the fact that monthly plans include a wide range of components — from features covering marketing, broadcasting, reporting areas, to integrations, sales assistance, and security — which are normally requested by large corporations.
Whisbi pros
Customizable chatbots
Live video call app
Group messaging
Wide knowledge base
Reports & analytics tools
Social media integration
Whisbi cons
The pricing plans may not fit small businesses
Lack of some basic administration options
Lack of niche-specific features
Limited customization abilities
All information regarding product advantages and disadvantages is provided based on the user reviews and comments coming from g2.com, capterra.com, and trustradius.com.
LiveChat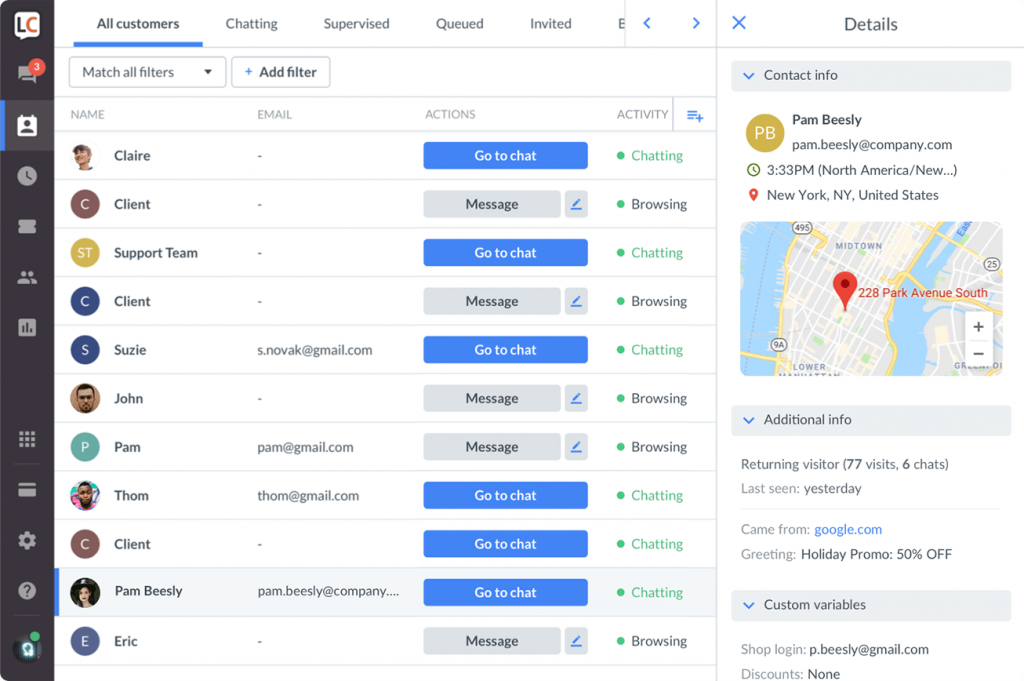 LiveChat is an online customer service platform used by companies to ease live communications with customers and facilitate sales faster. The platform encompasses online chat, help desk software, and web analytics tools. In addition to that, it provides a wide range of capabilities for customer engagement and third-party integrations.
The advanced ticketing system allows LiveChat to source tickets from chats and emails and automates all the follow-up activities. The real-time traffic monitoring feature allows tracking user's behavior and providing them with support at any stage and any page — search, shopping cart, order confirmation, etc.
LiveChat has been on the market since 2002 and is known for being used by large companies such as Tesla, Ikea, McDonald's, etc. It supports 38 languages and covers a full spectrum of customer support activities.
What about price options?
LiveChat allows users to test the platform for 14 days for free. Aside from that, the platform offers four pricing options: Starter ($19/month per agent), Team ($39/month per agent), Business ($59/month per agent), and Enterprise, the price for which is provided on request.
LiveChat pros
Customizable branding possibilities
Conversation supervision
Customer profiles
Team inboxes
Reporting & analytics
Screen sharing
LiveChat cons
Performance drops with long customer queues
Access to pro-features can be costly
May require technical help to set up the platform
Notifications are not stable at times
All information regarding product advantages and disadvantages is provided based on the user reviews and comments coming from g2.com, capterra.com, and trustradius.com.
Webliveview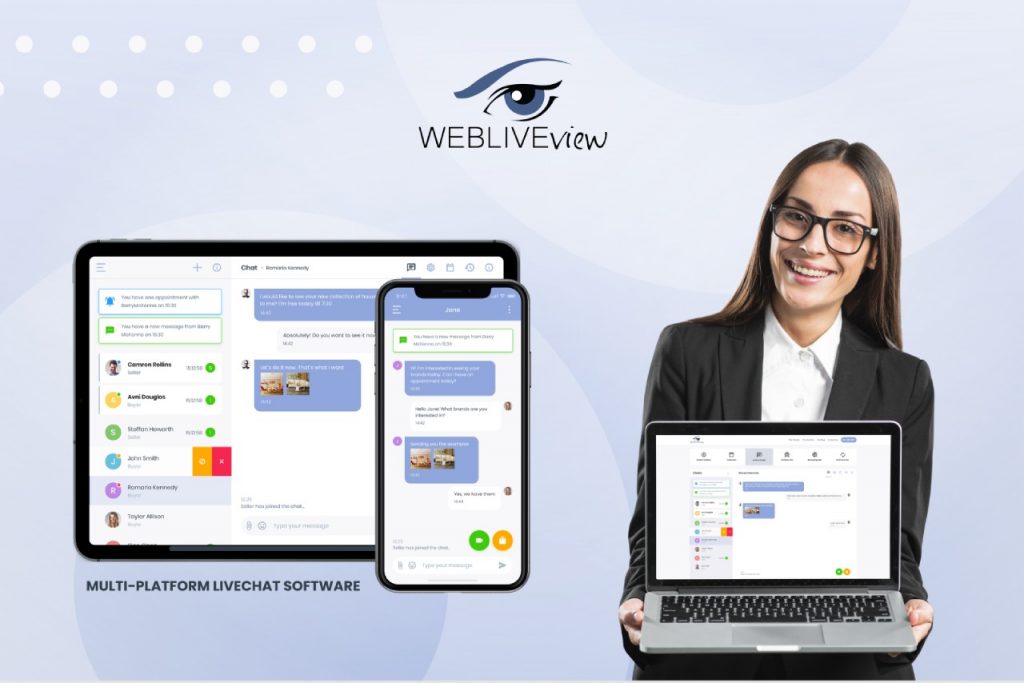 Webliveview is a live chat software for business that allows sales teams to deliver an in-store-like shopping experience for customers around the world. It offers many features for retailers and e-commerce sellers to help them accelerate omnichannel sales and boost customer service.
The main advantage of Webliveview is that it's designed specifically for retail businesses. The platform is not a 'one-size-fits-all' kind of a product, thus, doesn't inherit all the common issues of the mass-market solutions (like those where unauthorized parties get access to your private live call.) As a niche-focused software, it also doesn't force SMEs to opt for an excessive functionality they don't end up using but are obliged to pay for — as is the case with many other off-the-shelf solutions.
Being tailored specifically to the needs of online sellers, Webliveview offers business live video chats for 1-on-1 interactions between customer and sales representative, a convenient calendar booking system, payment checkouts, staff chat rooms, and advanced support service. It is also an out-of-the-box system, meaning users don't need to download anything to start using an app — just open a web browser and you're good to go.
What about price options?
Webliveview offers a 30-days free trial period during which users can test out the platform functionality and decide on which pricing plan suits them best. For the price plans, here businesses are offered with the next packages — Sales SuperStars ($120/month), Sales Champions ($239/month), and Product Specialists ($359/month) — each of which includes unlimited users, and comes with 'How it works' videos, online training courses, etc. If none of these packages fit businesses, they can also apply for the custom plan Brand Leaders. There's also a yearly subscription option available for each monthly plan that comes with a discount of up to 30%.
Webliveview pros
Live video chat app
GDPR compliant platform
Online monitoring of customer traffic
Live translation for 47 languages
Customized widget for a website
Screen sharing & co-browsing features
Webliveview cons
Does not support group video calls
Does not support dynamic voice detection
Product support is limited to business hours only
Modest customization options
What Live Chat App to Choose for Your Retail Business: Comparison Table
Now after we've gone through all three tools, let's summarize all their features in a table: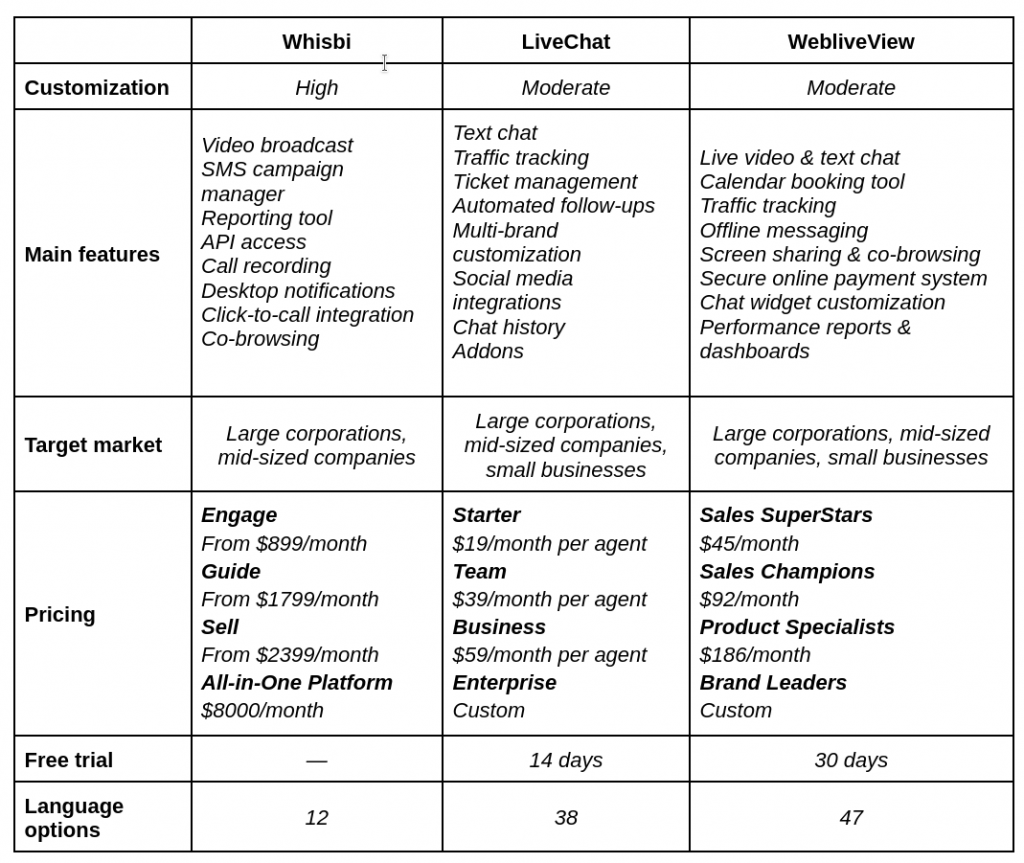 Best Live Chat for Business: Final Thoughts
So, there you have it. This was a brief comparison of the three options of chat software for business. When deciding on one, ground your decision on the functionality your company needs and not only on the number of features provided by specific software.
If you want to get more information about this subject or are looking for a live chat for startups, get in touch with us and try Webliveview. For 30 days it's a completely free chat for your website! To contact us simply fill the form below and we will get back to you within the next 24 hours!